Not all granite fabricators are created equal!

Solid Rock Company is a 25 year old family owned business and the original Southern Maryland and Northern Neck VA source for natural stone countertop fabrication and remodeling in granite, marble, limestone, slate, soapstone, and alberene soapstone as well as quartz or engineered stone.


About Us

Located in La Plata Maryland, Solid Rock Company has a large inventory of beautiful materials from around the world to fabricate and install in your community in Charles County, St. Mary's County Calvert County, or Prince Georges County, Maryland or King George County, Virginia.

Our highly trained local craftsmen have the experience and knowledge to transform or improve your home, offices, or businesses or commercial space into something special.


Hours: Monday - Friday 8am-4pm
Evening & Saturdays by Appointment

Besides kitchen counter tops or bathroom vanity tops we create fireplace surrounds, reception desks, tub surround decks, signage, Indiana limestone benches, pier capitals, coping and steps. We can restore stone sculptures, grave markers, gravestones, monuments and memorials as well as special custom works.
How to do business with us:

Fax, email, mail or come by with a sketch similar to the one below with the appropriate dimensions. We can quickly provide a FREE estimate. We can also quote on removal of old faucets, sinks and countertops.


Come and view your own slabs for approval from our extensive inventory


We will then take careful measurements of your job and be back to install within 1 week.


If you have existing counter tops we can usually leave them on until we come back so that you do not have to lose use of your kitchen or bathroom. We can also supply you with new sinks and faucets.
Measure and Make a Sketch

All you need is a pencil, an eraser, a measuring tape, and the Floor Plan.
Floor Plan

Draw an outline of your kitchen (it does not have to be perfect). If your kitchen is square, make the outline square. If you have a galley style kitchen, just draw two parallel lines. Remember that a scaled drawing is not the goal here. Simply put measurements in inches.

Mark the location of sink and oven or cook top.

Measure and record the measurements of all the surfaces on the floor plans grid.

Include the height of backsplash and the width and length of any countertops. Do the same for an island.
If you want to make your own drawings to more accurately represent your kitchen, please do. The drawing you are making is for price quotations only to the nearest whole inch. When we actually fabricate the counter top we will work from a full template made right in your kitchen. Use this guide to be sure you have given us all the information we need to accurately price your new countertop.
Visit Our Southern Maryland Stone Yard

Do Not Gamble On Quality!
We can fabricate and install these materials for bathrooms, around fireplaces, kitchens, countertops or bath surrounds.
Other Services we offer:
Stone restoration
Stone sculpture restoration

Grave marker restoration
Gravestone restoration

Monument restoration
Memorial restoration
References Available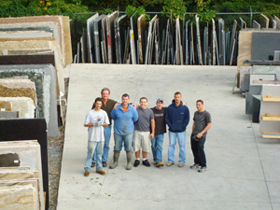 Past Projects
Fed Ex Field


Verizon Center


Turkish ambassador's residence renovation


Ambassador to The Netherlands residence renovation


Egyptian ambassador's residence renovation


Japanese Embassy


Passport BMW dealership


Marriott Hotel DC


Best Western


Holiday Inn


and thousands of residences in MD DC and VA at competitive prices!